Climate Action Data (CAD) Trust
A one-stop-shop to learn of and explore the third version of the Prototype
Climate Action Data (CAD) Trust is a global public meta-data layer empowering a new global carbon market infrastructure through a decentralized information technology platform built on blockchain technology. It aims to mobilise climate action toward the Paris Agreement's objectives by enhancing transparency and environmental integrity of carbon credit transactions and international carbon markets. Since 2019, the World Bank has prototyped Climate Action Data (CAD) Trust and has run three simulations to test the platform with partnering governments and Organisations. The simulations have provided for jointly learning about relevant technology and integrating registry systems while co-creating the design, functions, and shared data model for Climate Action Data (CAD) Trust. The past two simulations ran from August 2019 to December 2021, and the third and final simulation concluded by the end of August 2022. The Climate Action Data (CAD)´s media launch took place on October 26. The official launch was announced on December 7, 2022 at the Asia Climate Summit in Singapore.
Simulation III engaged a diverse range of carbon market stakeholders, organized in three groups. The Simulation III prototype was tested with 30 participating organizations, including 11 national governments, and 75 testers across 58 testing sessions. In addition to the 58 testing sessions, over 40 weekly office hours sessions and over 30 kick-off and onboarding meetings were completed. Participants included governments (37%), independent standards (17%), multilateral organizations (20%), and other private and public market participants (27%), representing a wide number of regions (East and West Africa, Europe, Middle East, North America, Latin America, and the Caribbean, South and East Asia).
This page provides information and access to the Climate Action Data (CAD) Trust's Public Observer Node. To facilitate the understanding of necessary registry functions and data requirements for tracking transactions of units and demonstrate how the information is tracked through the Climate Action Data (CAD). The Public Observer Node provides an interactive approach for any user worldwide to learn of and explore the third version of the Climate Action Data (CAD)´s prototype.
To learn more about the CADT, please check the official page: https://climateactiondata.org/
Data, Usage and Technical specifications
Data
The Public Observer Node currently shows test data to illustrate how project and unit related information will surface in the Climate Action Data (CAD) once participants upload their data. The Climate Action Data (CAD) is built on top of the public blockchain, which means that any data submitted through the operational Climate Action Data (CAD) will become an immutable record in the public blockchain.
To view more information on the data fields and definitions, please check the Data Dictionary. The Data Dictionary is a document that provides a list of proposed parameters needed to track emission reduction units, also known as "Mitigation Outcomes (MOs)" in the Paris Agreement, that are traded in voluntary carbon markets or envisaged under Article 6 of the Paris Agreement.
Usage
Through the Public Observer Node, users can view how the Project and Unit related information is displayed in the Climate Action Data, and also explore the details at Project and Unit level by clicking the individual data tabs and rows.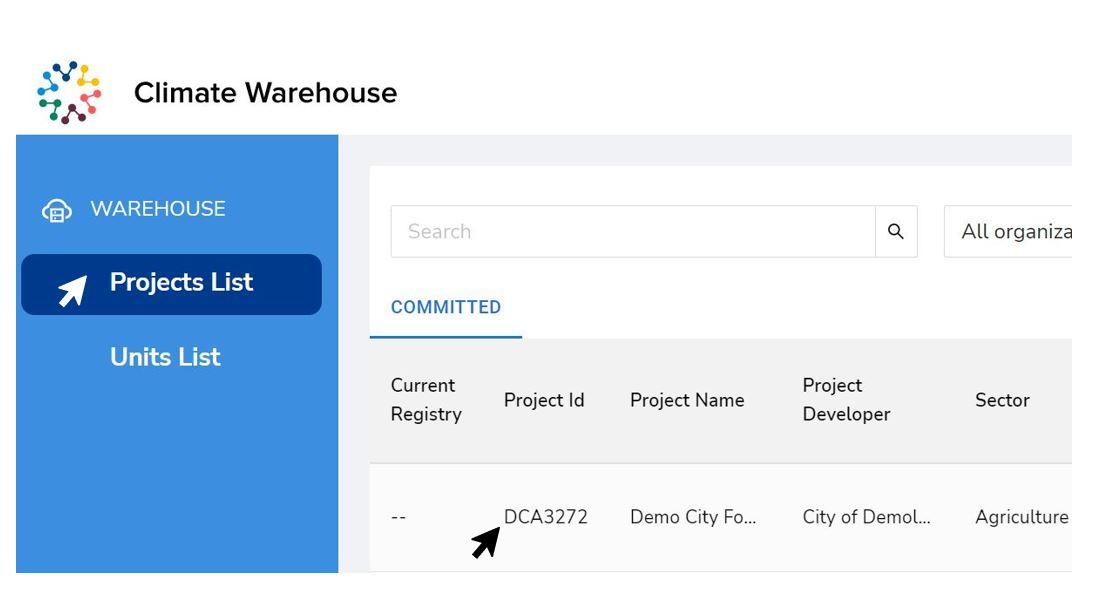 Technical
In addition to the Public Observer Node, Climate Action Data Observers worldwide can run the same software, either locally or in the cloud to access the same data. If run locally, all data can be mirrored into a local MySQL database to power dashboards, analytics, and reports.
The Climate Action Data (CAD) is fully decentralized and peer-to-peer. This means every participant and observer operate their own node, and there is no central server. This provides several benefits to the community using the Climate Action Data:
Accountability:

Each participant has a cryptographic key to publish their data, which cannot be altered without that key.

Traceability:

All data changes published by a participant are recorded in an immutable audit log secured by the blockchain.

Low Cost:

The software is free-to-run, has low hardware and bandwidth requirements, and does not require paid software licenses. The Climate Warehouse prototype Version 3 software is fully open source. The code is available here:
To learn further about blockchain technology for the Climate Action Data (CAD) Trust, read the White Paper here.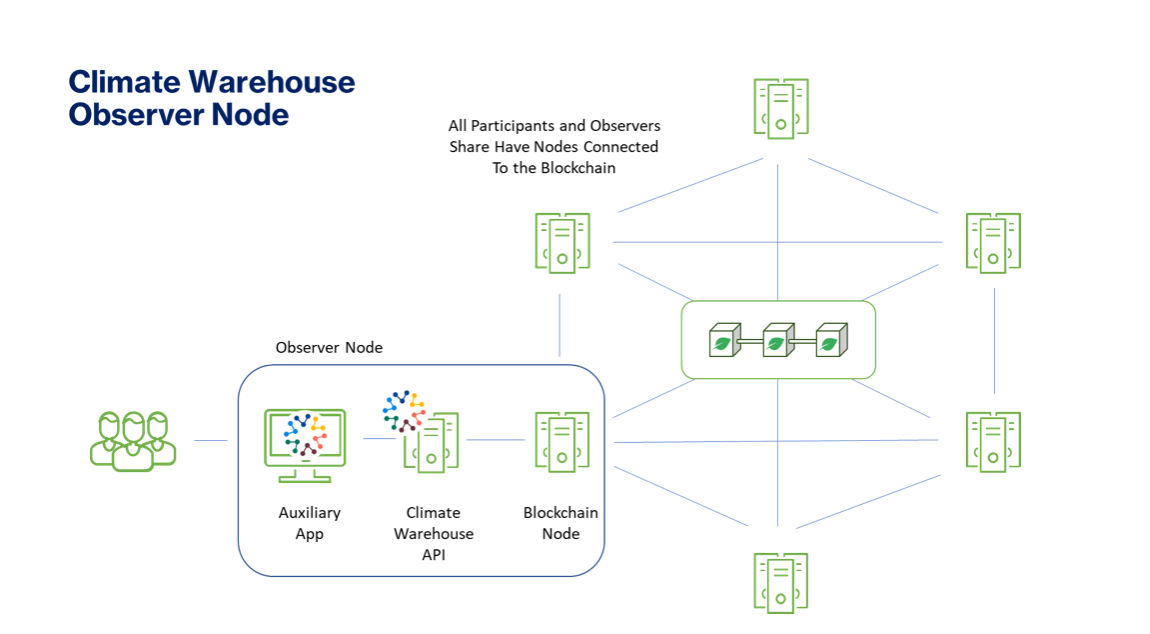 For more information, please contact us here: climatewarehouse@worldbank.org.